FAMOUS

SHIPS
The "LOCH VENNACHAR"

Loch Vennachar was launched by Messrs. Thomson, of Glascow, in August 1875. Her registered tonnage and dimensions were: 1,552 tons gross, 1,485 tons net; length, 250 feet 1 inch; breadth, 38 feet 3 inches; depth of hold, 22 feet 4 inches. Her lines were sharp as proved by the fact that she only had a capacity of 2,000 tons, her usual cargo being about 5,500 bales of wool. She was first rigged with fidded royal masts, but this proved to interfere with her stability as there was too much weight aloft. She was then given topgallant and royal masts in one with crossed royal yards over double-topgallants. She was always in the wool trade to Melbourne as an out and out wool clipper and also carried passengers. She was almost always the first ship to leave Port Phillip with a new clip. She was commanded by Captain Wagstaff on her maiden voyage, leaving Inishtrahull on September 6th, 1875. Her best week of sailing was 2,065 miles with daily runs of 285, 290, 320, 320, 312, 268 and 270. The new Loch Liner reached Hobson's Bay on the 19th, 74 days out. She just missed the first wool sales, but loaded and got away on January 13th, arriving in the Thames on April 11th, 88 days out. Captain Wagstaff was then succeeded by Captain Robertson, who died in 1878 after making only two voyages in the ship The command was then given to her first officer, J.S. Ozanne, who took the Loch Vennachar out to Melbourne in 77 days. He beat this passage in 1880, arriving in only 72 days. Her best sailing was 5,850 miles in 21 days, and 2,080 miles in 7 days. Captain Ozanne handed over command to Captain W. H. Bennet in 1884, who proved to be her best commander. Captain Bennet made the best wool passages Loch Vennachar ever made. In 1885-6 Captain Bennet distinguished himself by overhauling the Sir Walter Raleigh, but was beaten in his turn by Cutty Sark, Salamis and Thermopylae, the following being dates and times:
| | | | |
| --- | --- | --- | --- |
| Ship | Departed | Arrived | Days |
| Sir Walter Raleigh | Sydney, Oct. 11 | London, Jan. 6 | 87 |
| Lock Vennachar | Melbourne, Oct. 15 | London, Jan. 7 | 84 |
| Cutty Sark | Sydney, Oct. 16 | London, Dec 28 | 73 |
| Salamis | Melbourne, Oct. 18 | London, Jan 6 | 80 |
| Thermopylae | Sydney, Oct. 18 | London, Jan 6 | 80 |
In 1886 Loch Vennachar was the first ship away of the wool fleet, sailing on October 21st. She caught the January sales with a passage of 91 days, but was again beaten a few days by Salamis and Thermopylae, which made runs of 85 and 87 days, leaving Melbourne and Sydney respectively on October 24th. In 1887-88 Captain Bennet had a great race against the Thermopylae - he only lost by one day. In 1888-9 the Loch Liner distinguished herself by beating the Cutty Sark as follows:
| | | | |
| --- | --- | --- | --- |
| Ship | Departed | Arrived | Days |
| Cutty Sark | Sydney Oct. 26 | London Jan 20 | 86 |
| Loch Vennachar | Melbourne Oct. 27 | London Jan 19 | 84 |
These runs kept up, with remarkable steadiness and freedom from accident, until Captain Bennet could claim an average of 86 days for 12 homeward runs. Throughout the '80's Loch Vennachar put money into the pockets of the underwriters, but in 1892 Captain Bennet received a clear warning from the gods that her luck was changing. The Loch Vennachar was unfortunate enough to run into an Indian Ocean cyclone. It is interesting to read the account as given in the "Melbourne Argus": "The Loch Vennachar left Glasgow, bound for Melbourne, on April 6th, 1892, with a crew of 33 all told and 12 passengers, 4 of whom were ladies. All went well with the ship until she reached Lat. 39 degrees 55' S., Long 27 degrees 21' E., when at eight o'clock on the evening of June 3rd the barometer began to fall ominously and sail was promptly shortened. Darkness lifted soon after five o'clock in the morning and the break of day showed the terrific head seas that swept down upon the vessel, lashed by the North-East gale. At this time both watches were aloft fighting to make the foresail fast.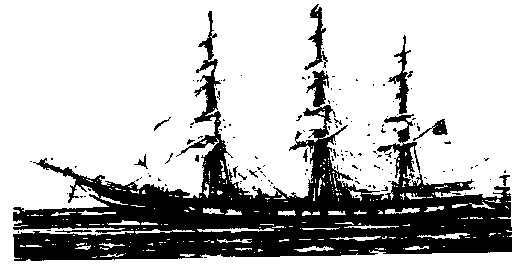 Captain Bennett, who was on the poop, saw the danger of his crew and at once resolved to sacrifice the sail. He sang out to the mate to send the men aft and the hands, who had been laying out on the pitching fore yard, gained the deck in safety and reached the poop in time. As they did so, two enormous waves bore down upon the ship, which rode slowly over the first, and sank to an interminable depth in the trough at the other side. Whilst in this position the second wave came on, towering half-way up the foremast, and broke on board, filling the lower topsail 60 feet above the deck as it came. Hundreds of tons of water swept over the ship in a solid mass from stem to stern, thundering inboard on the port side of the fo'c'sle and racing away over the main-deck and over the poop, where most of the crew were standing. Every man on the poop was thrown down, and when they regained their feet they perceived that the foremast and mainmast were over the side, and the mizen topmast above their heads had disappeared. Not a man on board actually saw the spars go or ever heard the crash of the breaking rigging, so violent was the shock and so fierce the howling of the hurricane. The cook was washed out of his galley, and swept overboard, the galley being completely gutted of everything in contained." Without her masts to steady her, the Loch Vennachar rolled fearfully in the tremendous seas. They could not rig any jury-masts for nine days, when at last the seas moderated enough to rig a spar forward which, with sail on the mizen, took the ship into Port Louis, Mauritius in five weeks. She had to stay her for five months while new spars were sent from England. It took Captain Bennett just ten days to repair his ship once the new spars arrived. She finally arrived in Hobson's Bay on December 22nd, 260 days from the Clyde. As soon as her anchor was down, her crew came aft in a body and gave Captain Bennett three stentorian cheers of gratitude and congratulations. He also received Lloyds medal for his fine work. The only other accident of any account which the Loch Vennachar suffered during her long and successful career was a collision in the Thames. Upon arriving in 1901 with the best wool passage of the wool season, being 86 days out from Melbourne, she anchored off the Mucking Light. Just before down she was cut down and holed on the starboard bow by the Hull steamer Cato, one hand being seriously injured. She rapidly sank in 40 feet of water, but all hands, along with the parrot and cat, got clear safely. She rested on the bottom of the Thames for a month before being raised and repaired, resuming her old place in the Melbourne trade. In 1904 Captain Bennett retired and Captain W. S. Hawkins took command. The beautiful wool clipper was lost with all hand in 1905, when outward bound to Adelaide. It is believed she was wrecked on the Young Rocks, a granite outcrop about 20 miles S.S.W. of Cape Gantheaume, as some wreckage belonging to Loch Vennachar was found in the area.